NY-GEO is proud of the work our members do to advance GSHP.
NY-GEO BOD members support Renewable Heat Now Rallies for the NY HEAT Act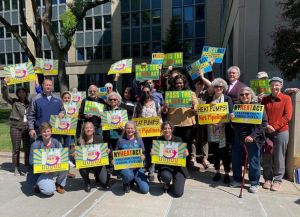 May 26, 2023 -NY-GEO BOD members Kevin Moravec and Bill Nowak attended the rally in Syracuse.  The Home Energy Affordable Transition (HEAT) Act is a key step the NY Legislature can take to implement NY's Climate Action Scoping Plan as the legislative session comes to an end. The Act would authorize the Public Service Commission to stop the 100-foot rule which provides free gas lines to buildings. This subsidy costs ratepayers $200 million a year for gas infrastructure that will soon become a stranded asset if we are successful at reducing gas use enough to meet NY's climate goals. It would also allow gas utilities to expand their offerings to include clean thermal energy and would protect ratepayers as the transition to clean heating proceeds. Last week, Renewable Heat Now (RHN) held press events in Syracuse, Kingston and Albany and joined NY Renews events in multiple cities to support NY HEAT under the slogan "It's not complete without NY HEAT". RHN urges New Yorkers to take the simple, easy and IMPORTANT step of calling legislator's offices as the Legislature enters the final week of this year's session by clicking this link.
National Grid visits  NY-GEO members Joanne and Paul Coons
National Grid joined NY-GEO members Joanne and Paul Coons at their all eclectic home to share the beauty of electrification and geothermal today with Channel 6. Terrific to see NY-GEO members ClimateMaster, Inc. and Aztech Geothermal, LLC being showcased as Jenny Cross, Lead Program Manager talks about the benefits of geothermal.
CLICK HERE to see the full story.