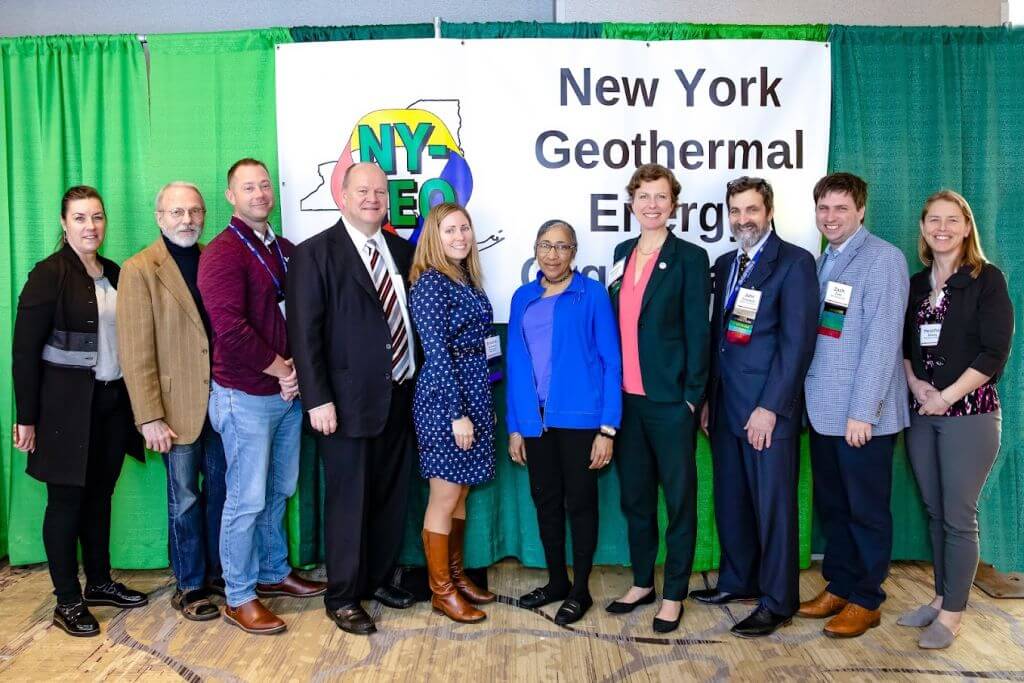 New York Geothermal Energy Organization (NY-GEO), a not-for-profit trade association, founded in 2014 and representing the geothermal heat pump (GHP) industry in New York State, is dedicated to promoting geothermal heating and cooling. Our 70 founding members include geothermal system designers, installers, drillers, general contractors, engineers, manufacturers, distributors, renewable energy consultants and industry stakeholders who install and advocate for the use of ground-source heat pumps to heat and cool buildings throughout New York State.
Meet our Board of Directors.
NY GEO is proud to present a new mission, vision, values and goals statement to guide the organization's current and future initiatives.
Our Mission: Grow the geothermal heat pump industry and develop its workforce, while educating policy makers and residents about the benefits of geothermal heat pumps.
Our Vision: NY GEO is the driving force in the mass adoption of Ground Source (Geothermal) Heat Pumps for residential, commercial and utility scale heating and cooling in New York State.
Our Values: NY GEO, being committed to the highest standards of ethical conduct, has adopted the following values to guide us in this pursuit:
Community and Environmental Accountability
Innovation and Excellence in our Technology and Approach
Leadership, Teamwork and Integrity
Better quality of Life with a Cleaner and Healthier Planet
Easing of the Climate Crisis
Respect for All People
Our Goals:
Ensure that New York State sets clear targets and timetables in order to end fossil fuel heating and cooling and reach the CLCPA goals.
Make Ground Source Heat Pumps (GSHP) the preferred HVAC system of choice in New York State.
Facilitate education so that every person in New York State is familiar with GSHPs.
Create consistency in GSHP building permit applications and make it easier to install quality GSHPs in New York State.
Collaborate with NYS DEC to review and revise GSHP-related drilling regulations.
Encourage the adoption of new GSHP system technological advances that drive and accelerate beneficial electrification.
Remain the voice of the geothermal heat pump industry in New York State.