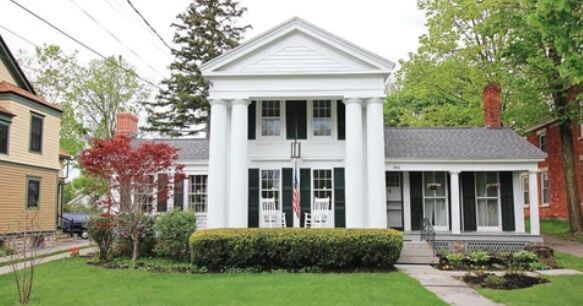 2019 Top Job winner
The Noble House - Halco
The 2019 Top Job winner is the Noble House, the historically deemed home of the prominent abolitionist and publisher of Uncle Tom's Cabin, Linnaeus P. Noble. Located in beautiful Fayetteville New York this 2,100-sq. ft. multi-family home was built in the early 1800's.
First, Halco and the customer himself tightened the building envelope as an initial step. Among other improvements, both attic spaces (above the home and adjoining apartment) were spray foamed so the geo air handlers there would be inside the thermal barrier and new ductwork was installed.
A 12-ton system was installed with 3 bores drilled to a depth of 420 ft, with 1.5-inch loops. Drilling was done in a tight space in the stone driveway and a trench of approximately 20 ft to the home was dug. This one loop was tied into 4 separate heat pumps.
A 2-ton GeoStar Aston split unit is used to heat the top floor with the air handler in the attic and the heat pump in the basement. A GeoStar communicating thermostat with Aurora Symphony Weblink energy monitoring and humidity control is used.
The second heat pump is a 5-ton Aston dual stage unit installed in the basement to heat the main floor. New ductwork was installed using existing registers. This unit was also tied to a GeoStar communicating thermostat with Symphony monitoring.
The third unit is a 3-ton Aston split unit, with the air handler installed in the attic of the attached apartment and the heat pump in the basement of the home. Again, this was installed with a GeoStar communicating thermostat. The feed line to the heat pumps is in a shared crawl space in the basement.
A fourth 2-ton GeoStar Aston water to water heat pump provides domestic hot water.
After this experience, homeowner William Sunderlin joined the steering committee for HeatSmart CNY, a program with an objective to increase the number of Renewable Heating Systems in the community! William's home is also a Pearl Certified Platinum home.
Presentation Deck: Halco_NY_GEO_2019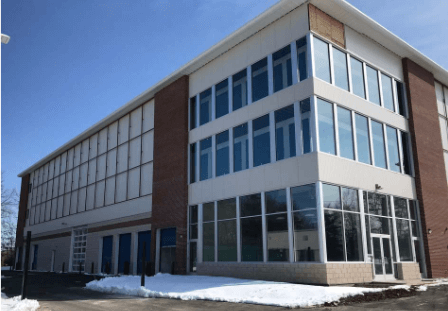 All-American Self-Storage - Achieve Renewable Energy, LLC
All-American Self Storage is a newly constructed 130,000-sq. ft. self-storage facility in Chelmsford, MA. The building consists of five floors of steel frame and block wall construction.
Heating and cooling loads for the geothermal system were estimated using ACCA Manual N and the design temperatures appropriate to the area. The peak heating load and cooling loads were found to be 630,812 and 315,240 Btu/hr, respectively due to new building construction energy efficiency measures.
The GSHP system includes 15 variable-speed heat pumps. Two of them serve multiple heating and cooling zones using the WaterFurnace Intellizone2 advanced zoning controller.
The ground loop is a Vertical Closed-Loop (VCL) system of 20 vertical borings drilled to a depth of 420 feet with variable-speed loop circulation. With 1.25-inch ID HDPE (high density polyethylene) u-bends, the loop can maintain a minimum Entering Water Temperature of 32°F or higher.
The VCL system is efficient and compact by reducing barriers to heat transfer using a lower grout thermal conductivity graphite grout mixed for a thermal conductivity of 1.634 Btu/hr-ft-°F. However, field variations using a VCL with some parameters at the limit of commercial practicality can cause significant reductions in performance.
Quality Assurance and Quality Control ended up being very important to a successful project. All of the borings were located via both a Total Station survey and drone video and still photographs. This came in handy for diagnosis and repairs when the site excavation contractor damaged the VCL installation twice.
Presentation Deck: Achieve_NY-GEO_Top_Job_2019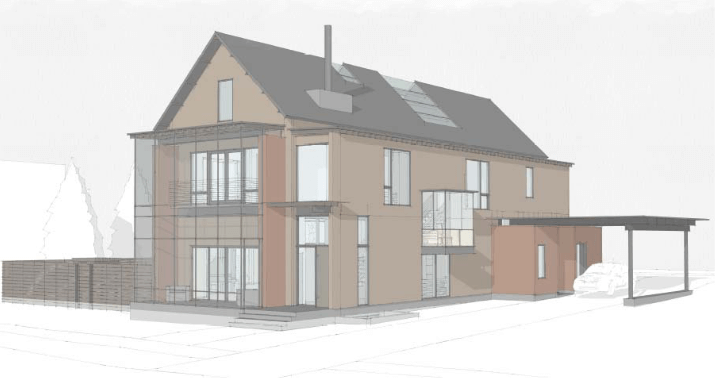 The Blivit House - Aztech Geothermal
This project presented many design challenges as the project evolved. A slab-on-grade luxury home on a small lot was just the beginning. The major challenge was the relatively complex mechanical system needed to be installed in an ever-shrinking mechanical space. The mechanical room is in the garage and is highly visible. We took great care to achieve the form and function required, redesigning the mechanical room four times to find creative ways to fit all the major mechanicals into approximately 25% of the original space allocation.
A WaterFurnace NSW 5 Ton water-to-water unit was selected to serve the radiant floor zones and air handlers for heating and cooling.
There were 2 air handlers, one using conventional ductwork and one using high velocity to meet design constraints. The radiant floor zones and air zones were matched so one thermostat controls all zone functions. Two heat recovery ventilation units serve the whole house and double as bathroom ventilation on timers. And all interface with a Savant home automation system installed by others.
Two (2) 400-foot boreholes were drilled to support the thermal exchange with the heat pump. Kilfrost GEO was used instead of propylene glycol to lower freeze protection and pumping energy.
The customer wanted a gas-fired boiler installed to serve as a supplemental and back-up heating source to both the hydronic heating system and an 80-gallon indirect hot water tank. The boiler is connected to a 40-gallon Geo-Stor tank acting as a buffer tank for the hydronic heating system. The buffer tank also takes heat inputs from both the geothermal heat pump and/or boiler depending on preset conditions.
To maximize the system efficiency an HBX Set Point Controller will adjust water temperatures sent to the heating zones from the buffer tank, in response to changes in outside air temperature. A separate HBX Zone controller will also be used to regulate zone valves for each of the hydronic zones for the radiant floors and air handlers in the system.
This system won the Best Mechanical System Award at the CRBRA Best in Building Awards in November of 2018!
Presentation Deck: Blivit House Aztech_2019_Top_Job_Presentation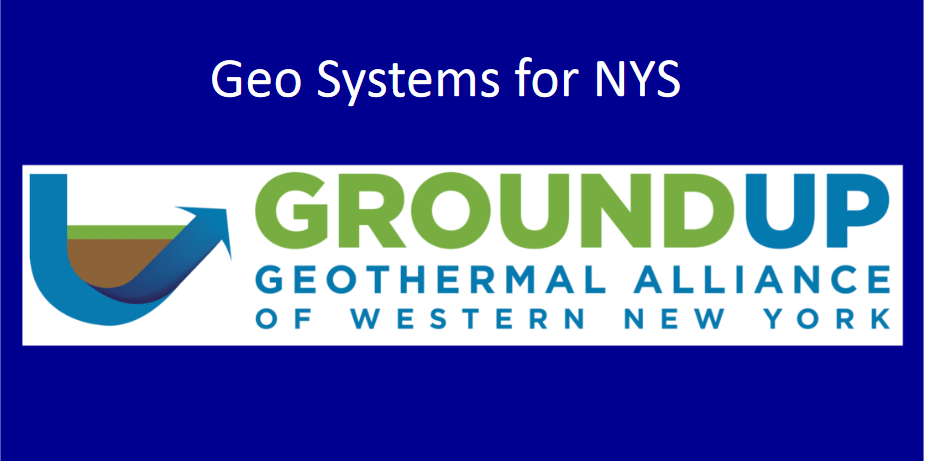 The GroundUp Model - GroundUp Geothermal Alliance
The GroundUp Geothermal Alliance is an initiative by the NY Geothermal Foundation to make affordable geothermal energy heating and cooling available to every homeowner in New York.
The team consists of ACES Energy, Buffalo Geothermal, Dailey Electric, GeoTherm, Van Hee Mechanical, Phoenix Energy Supply, and WaterFurnace.
The key to affordability is the standardized design, performance and pricing ensure consumer confidence, easy workforce development and quality assurance, allowing geothermal systems to be implemented at utility scale numbers in New York State.
Not only is the system design standardized, but GroundUp is offered to each homeowner at the same fixed price independent of the configuration and includes an innovative financing solution for $128/month without any money down, after incentives. The offer usually covers well-insulated single family homes up to 4,000 sq ft.
The systems offered have the most efficient and comfort oriented variable capacity technology for heating and cooling and include a dedicated second heat pump to make 100% of the domestic hot water via the geothermal system. They are designed not to use supplemental electric resistance heat to avoid a spike in winter peak electrical demand; both a forced air and a radiant floor solution are offered.
The radiant systems include a high temperature hot water heat pump applicable for baseboard radiators, if needed. The systems use either a standardized single vertical borehole loop design to allow a very small footprint, or a horizontal loop field where sufficient space exists.
In addition, all GroundUp systems come with a remote control and a monitoring system, which allows the homeowner to verify its performance and also allows the contractor to identify and troubleshoot faults remotely.
Presentation Deck: GroundUp_Top_Jobs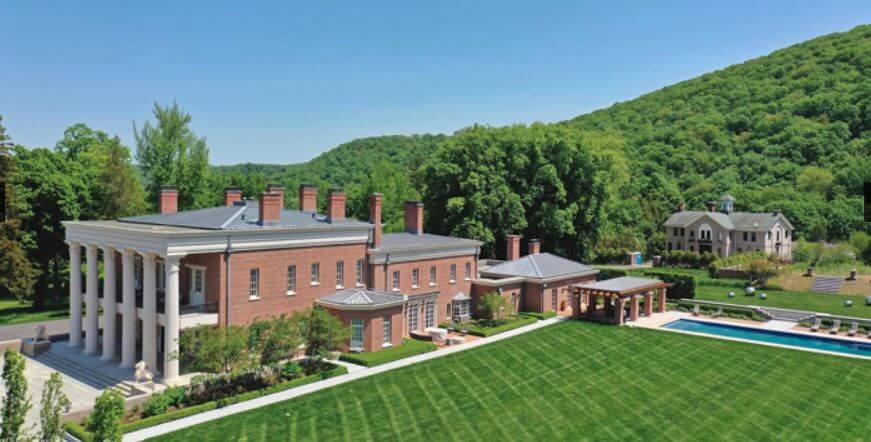 The Sloan Estate - D. Silvestri Sons
The 160-year old Sloan Estate, listed on the US National Register of Historic Places, is in Garrison, NY in Putnam County.
The project was to renovate this 9,000-sq ft, 2.5-story house in a Greek Revival style without breaching the 80% plastered and painted ceilings. A team of contractors updated the thermal performance and energy conservation to LEED silver home standards.
The geothermal heating and cooling system consists of four 5-ton, 2-stage water to water heat pumps and 3 Unico Hydroair air handlers and 3 Nortec modulating humidifiers. The owner also wanted supplemental heat with a 92% efficient Veissmann boiler.
For ventilation there are 3 Zehnder energy recovery ventilation units, and 2 heat recovery ventilation units. There are two manifolds with 100-gallon buffer tanks for geothermal pre-heat domestic hot-water.
The loop is a closed vertical bore with variable speed, wet rotor circulators, which also provide heat for the pool and hot tub and to the radiant slab for snowmelt.
There are integrated, configurable controls of the 16 pieces of equipment to provide detailed monitoring on the building and equipment to maintain temperature, humidity, pressure energy, safety, and equipment reliability. The system has remote online access for tuning and troubleshooting.
Presentation Deck: Sloan Estate_NY-GEO_2019_Top_Job