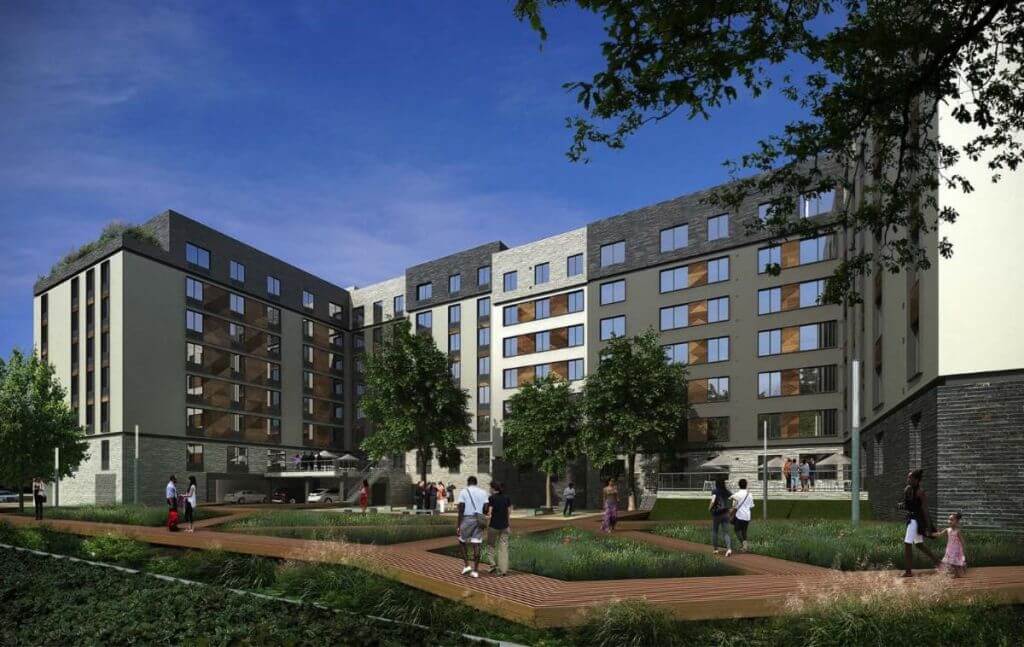 2021 Top Job winner
Beach Green Dunes II - ZBF Geothermal
Beach Green Dunes II, the largest passive housing building in NYC with a geothermal heating and cooling system installed. This 100% affordable building has 500 apartments, and was designed as an investment case study for financing high efficiency affordable housing buildings in NYC.
Beach Green Dunes II set a precedent by receiving MTA (Metropolitan Transit Authority) approval to drill an uncased borehole within 200 feet of a structure; this reduced the cost substantially. Two subsequent projects have received this approval, largely due to this success in the drilling phase.
The geothermal system consists of 36 boreholes to a depth of 450 feet each. These boreholes provide heating and cooling to the 125,000-sq ft building, including a cafe serving locally grown food, and 127 apartments. ZBF Geothermal also worked with the LIPA/PSEG Long Island electric utility to create a $113,000 rebate for the multifamily units, a program that previously didn't exist.
The ROI of the project is under 2 years. Heating and cooling for this building, about $25,000 a year, is a quarter of the cost of a conventionally heated and cooled building. Expanding on this project with the client, L+M Development, construction has now started on 3 additional buildings totaling 500 apartments that will be heated, cooling, and have hot water provided by geothermal.
Presentation Deck: Beach_Green_Dunes_2-ZBF Geothermal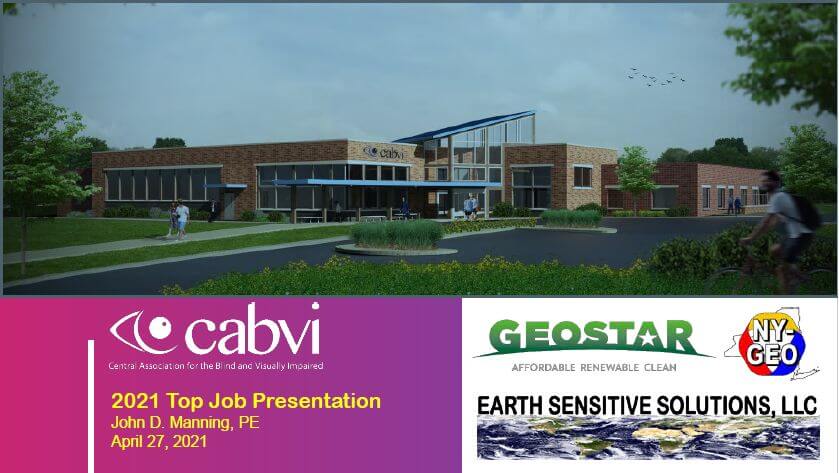 Central Association for the Blind and Visually Impaired - Earth Sensitive Solutions, LLC
The 25,498-sq ft Central Association for the Blind and Visually Impaired (CABVI) building is located in Utica, NY. This was an unusual project with several unique needs. One was heating the swimming pool 3 days a week for therapeutic swimming and cooling it down for recreational swimming for the community the other 4 days. This generated some revenue while building stronger bonds with their community. Another need was snow melting and clean sidewalks for their clients. And then there needed to be a high degree of zoning and independent temperature control.
All of these needs are fulfilled with a total of 107.8 tons of installed equipment is being served by 24 vertical bores at a depth of 500 ft with 1.5-inch loops of 111 feet/ton. All major circulating pumps are Engine Control Module (ECM) pumps configured to optimize and minimize pumping energy.
Space heating and cooling is via 3 10-ton Samsung water cooled VRF with 44 fan coils, and 6 mode control heat recovery units and 3 GeoStar variable speed water-to-air heat pumps, which served areas with a very large fluctuation in occupancy and associated cooling load. The computer room is cooled with a 4-ton GeoStar Variable Speed water-to-air heat pump. There is radiant heating of a remote 3,350-sq ft maintenance garage using 2 5-ton GeoStar water-to-water heat building ventilation was provided by 6 Renewaire Energy Recovery Ventilators. Pumps.
Three 5-ton GeoStar water-to-water heat pumps heat and cool the 32,316-gallon swimming pool and provide radiant heating to the deck around the pool. The pool room is dehumidified with a water cooled Seresco NE-007.
Two 15-ton GeoStar Water-to-Water Heat Pumps provide the snow melting for 1,750 sq ft.
Presentation Deck: CABVI presentation.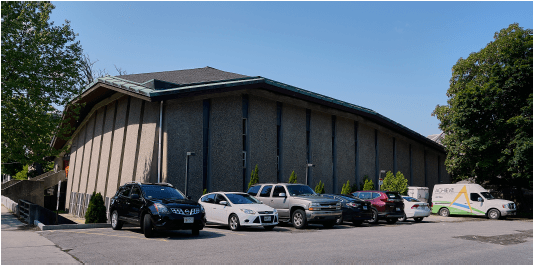 Congregation Beth Israel - Achieve Renewable Energy, LLC
Congregation Beth-Israel, in Malden, Massachusetts, wanted to reduce greenhouse gas (GHG) emissions, replace end-of-life equipment, improve comfort and reduce operating cost.
The synagogue has a contemporary design originally constructed in 1960. The building is primarily concrete with very little insulation and two heating and cooling zones. As a house of worship, it has high occupancy during the weekends, religious holidays or events and low occupancy other times.
The conversion consisted of 13 WaterFurnace variable-speed heat pumps supplying 16 comfort zones, with each heat pump remotely monitored using a WaterFurnace Aurora Web-Link (AWL). The AWLs and programmable temperature controls are pre-set so that system adjustments can be done without interfacing with members of the Congregation.
The heat pumps utilize a central vertical-closed loop heat exchanger (VCL) consisting of fifteen 500-foot vertical bores drilled in native rhyolite. Borings were completed with a 1.25-inch loop and the loop circulation is achieved with a central variable-speed pump system. The building loop pump adjusts to maintain constant pressure and each heat pump controls its own modulating flow valve, matching flow to the heat pump to greatly reduce the pumping cost.
The ventilation is provided by a ducted fresh air system that is electronically controlled based upon carbon dioxide concentrations in the building; this provides fresh air consistent with building occupancy.
Utility costs have been reduced as well as the carbon footprint while the congregation comfort level has increased
Presentation Deck: Congregation_Beth_Israel_Achieve Renewable Energy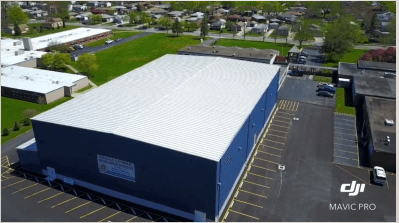 Ralph C. Wilson, Jr. Niagara Community Center - Buffalo Geothermal LLC
The Ralph C. Wilson, Jr. Niagara Community Center, in Niagara Falls, is a 21,600 sq ft multi-use indoor sports and education facility designed to accommodate a wide range of sports and activities year round. It also provides a location for collaborative activity among community groups and not-for-profit organizations.
Buffalo Geothermal was commissioned to design-build the space conditioning system. The intention was for "The Niagara" to be sustainable from both operational cost and environmental perspectives. Energy efficiency and the lack of emissions were important considerations, especially since it is meant to support the development of children into the leaders of tomorrow.
The Geothermal system consists of 6 forced air heat pumps totaling 34 tons of capacity. To reduce the upfront costs, a horizontal slinky loop field was installed underneath the parking lot and the surrounding driveways, which is unusual for a geothermal system of this size.
The enormous size of the building requires different loop fields to support different areas of the building, both to reduce upfront costs and pumping power. Variable speed pumping technology automatically reduces the pumping power when fewer heat pumps are operating.
A remote control system allows temperature adjustments for different activities, so temperature sensors in each wall direct the air flow to maintain temperature and humidity levels.
Due to its mission and its sustainability "The Niagara" received a $1 million grant from the late Buffalo Bills founder Ralph C. Wilson Jr's foundation. Buffalo Geothermal matched this spirit by agreeing to build the system at cost and donate its own labor.
Presentation Deck: Niagra Community Center_Buffalo Geothermal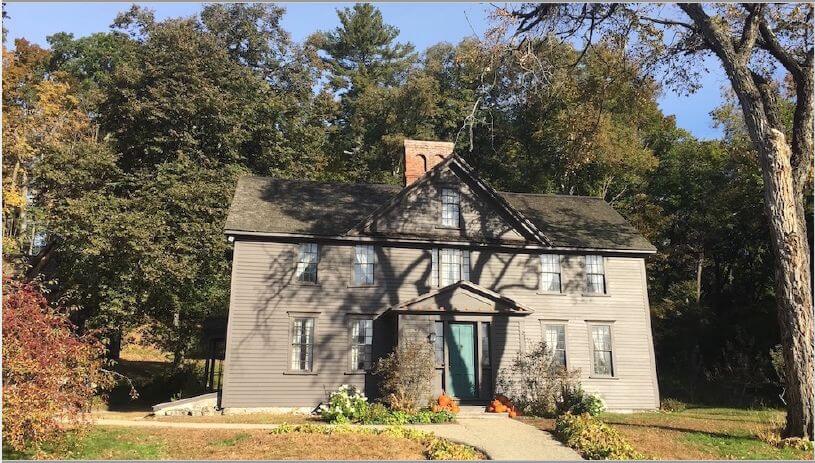 The Historic Home of 'Little Women' - EnergySmart Alternatives
The Louisa May Alcott Orchard House Museum in Concord, Massachusetts, was the home of Louisa May Alcott, author of the American classic Little Women. It is currently a living museum with most of the furnishings on display belonging to the Alcott family during their residency there.
Being an historical property, there is a constant struggle to balance artifact preservation with patron and staff comfort. Preservation, with authenticity being of utmost importance, has been ongoing since the home became a museum early in the twentieth century. Over the years, Orchard House has been modernized with electric lighting, a fire alarm, and building security systems.
The old HVAC system created noise in the museum space. And the overall building energy efficiency was extremely poor since Orchard House cannot be insulated or upgraded in any way that affects the construction materials. Single pane windows, 150-year old plaster walls, and wood clapboard make for loose construction. Condensation within the exterior wall cavities in the winter and humidity-induced mildew in the summer was a serious concern.
A state-of-the-art ground source heat pump heating and air conditioning (HVAC) system was chosen to control heating and cooling costs, provide a more comfortable climate control, and to be a greener facility overall.
Before exterior work began, archaeologists from the University of Massachusetts Boston conducted archaeological excavations in the areas to be disturbed. The structure was also examined to ensure it could support the weight of the equipment in the attic.
Eight geothermal boreholes were drilled at the back of the property and the pipes entered the basement at the rear of the building and connected to four geothermal units located throughout the building. New sheet metal ducts were installed to distribute the hot air and air conditioning throughout. The beauty of a geothermal system is that it is able to remove humidity effectively without overcooling. Humidity levels in the winter were improved with the removal of drying combustion heating.
The geothermal heat pumps are extremely quiet. They have a real-time monitoring and control system that can be accessed through a smart phone application. Annual heating and cooling costs have decreased by approximately $8,000 since its initial operation in July 2018 and the gas bill has been eliminated.
Presentation Deck: Home_of_Little_Women_Energy Smart Alternatives