Sen. Harckham – New Geothermal Borehole Law Spurs Project in Ossining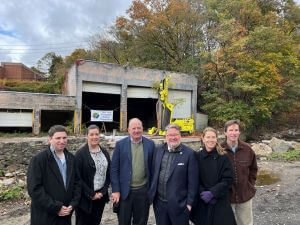 November 1, 2023 ~ Ossining, NY
New York State Senator Pete Harckham marked the signing into law of his bill allowing geothermal boreholes deeper than 500 feet at a special press conference held here today on a property where WBP Development LLC is developing a 109-unit mixed use structure called Station Plaza with affordable housing that will utilize geothermal heating and cooling.
A geothermal borehole deeper than 500 feet—one of the first to be initiated in the state for a commercial development—is set for the project, which is located at 30 Water Street. The drilling rig for the project was on site for the event.
The new law, enacted in September, will help New York State meet decarbonization goals and substantially boost local economies by opening new markets for clean heating and cooling technologies in densely populated regions while meeting New York State's emissions reductions targets as established in the landmark Climate Leadership and Community Project Act (CLCPA).
"Geothermal energy systems, the most efficient way to heat and cool buildings, are a clean energy technology that needs to be encouraged," said Harckham. "The new law allowing deeper boreholes means lower project costs, which will significantly ramp up this alternative energy industry statewide. More than ever, we need to reduce fossil fuel use. Being able to shift toward a geothermal energy source, especially in dense urban settings, will create new jobs and real savings to all involved parties—developers, contractors, homeowners—while boosting our economy."
Joining Harckham at the press conference were Ossining Village Mayor Rika Levin; Ossining Town Supervisor Liz Feldman; Christine Hoffer, executive director of NY-GEO; Heather Deese, senior director of Dandelion Geothermal and NY-GEO board member; Zach Fink, president of ZBF Geothermal and vice president of NY-GEO; William G. Balter, president of WBP Development LLC; Leo Wiegman and Lauren Brois from Sustainable Westchester; and Suzie Ross from Green Ossining.
To see a video of the press conference, click here.
Closed-loop geothermal systems extract heat from the ground to pass through heating ducts and create hot water. To cool structures, the heat is pushed instead into the ground. The installation of closed-loop geothermal heating and cooling system boreholes is a key strategy identified in the final Scoping Plan adopted by the Climate Action Council.
Initially, as the technology developed, there were significant regulatory barriers in New York to large-scale adoption of geothermal energy systems, threatening the State's ability to meet its climate goals.
Prior to Harckham's bill being enacted, the DEC applied regulations developed for oil and gas wells to geothermal boreholes greater than five hundred feet deep, even though they do not involve injection into or extraction from the ground and thus do not have the same adverse impact adverse on the environment in the way that oil and gas wells do. The DEC's existing regulations also applied on a per-well basis, which added significant cost and permitting barriers to ground-source heat pump installations and geothermal energy network projects that benefit from installing multiple boreholes to distribute heat.
Those imposed costs and requirements effectively limited geothermal system design to shallower depths, resulting in projects involving more boreholes. This substantially increased costs (especially for commercial and industrial projects) and significantly decreased the potential market for geothermal systems, especially in densely developed areas. Fewer and deeper boreholes per project result in lower costs, less waste, little-to-no emissions (unlike the oil and gas drilling for which those prior applied rules were originally drafted), and greater access to geothermal resources in cities and other densely developed regions of the state.
There are significant economic benefits to be realized by deeper geothermal boreholes. Allowing closed-loop geothermal boreholes greater than five hundred feet deep will reduce the cost of meeting New York State's building decarbonization requirements by nearly $9.9 billion by 2050. It will also reduce the cost of meeting the State's goal of electrifying one million homes by 2030 by approximately $900 million; and reduce the cost of electrifying 85% of the State's building stock by approximately $9 billion between 2030 and 2050, in 2023 dollars.  In nominal dollars, the total cost savings will increase to $16.3 billion by 2050.
Heather Deese said, "This change in state law is transformative for our customers and our business. Under the old rules, we were drilling two or more shallower boreholes for most of our customers. Now almost all our customers can have their home heating and cooling needs met with one deeper borehole. This law, championed by Senator Harckham, is saving time and money and allowing us to serve more customers throughout Westchester and the Hudson Valley."
William G. Balter said, "We are thankful for the law change spearheaded by Senator Harckham. Station Plaza will be our company's third affordable multi-family development with a large geothermal system for heating, cooling and hot water. This law will allow us to use a smaller portion of the site for the geothermal well field. Fewer wells will result in better logistics and substantial construction savings."
Zach Fink said, "ZBF Geothermal thanks Senator Harckham for his leadership in helping to change the 500-foot drilling barrier to geothermal adoption throughout New York State. This change will allow for wider scale geothermal adoption in urban environments, create new skilled jobs for the clean energy transition and lead to energy savings for consumers and business owners."
Mayor Rika Levin said, "This truly groundbreaking legislation will further Ossining's overarching goals for environmental sustainability, economic development, and quality of life for its residents. We are grateful for Senator Harckham's efforts to ensure social and environmental justice for all communities and to WBP Development LLC for its commitment to quality, affordable, and sustainable housing."
Supervisor Liz Feldman said, "Senator Harckham is always looking to help us reduce our carbon footprint. This simple change in law will allow us to have more clean geothermal in our community and less pollution from burning fossil fuel. We appreciate this important step towards a cleaner, greener future."
Pete Harckham represents the 40th Senate District, which includes the towns of Carmel, Kent, Patterson and Southeast, and the village of Brewster in Putnam County; the town of Stony Point in Rockland County; and the city of Peekskill, the towns of Bedford, Cortlandt, Lewisboro, New Castle, North Salem, Somers and Yorktown, the towns/villages of Mount Kisco and Ossining, and the villages of Briarcliff Manor, Buchanan and Croton-on-Hudson in Westchester County.
Photo: (L-R)Sen. Harckham with Zach Fink, Christine Hoffer, William G. Balter, Heather Deese and John Rath from NY-GEO